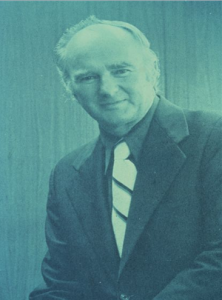 Charles Conrad, a self-taught refrigeration expert, revolutionized the way environmental testing is done today. Conrad began working in climatic simulation after graduating from a West Michigan high school. His technical aptitude allowed him to invent cascade refrigeration, thus began the tradition of environmental testing.
In 1951, Conrad developed a processing chamber for H.E. Morse Company to create -125°F temperatures. Conrad invented the first environmental test chamber by modifying a home freezer on the front porch of his home in Holland, Michigan. Based on this innovation, he founded Conrad, Inc., and sold the initial basic environmental test chamber models to companies like General Motors.
Conrad sold his stock in Conrad, Inc., in 1962 and founded Thermotron that same year. The original plan for Thermotron was for Conrad to be a one-man shop and to make solid-state water coolers. His plans quickly changed, and he returned to his passion for building high-quality environmental test equipment.
With that, he added employees to the payroll, building a variety of chamber types. Conrad sold the first Thermotron AGREE chamber to General Electric in 1963. This launched into explosive growth with the addition of the S-Series Environmental Chamber and Electrodynamic Shaker product lines and the first electronic programmer controllers.
Conrad was a people person who was far more concerned that the customer got the right equipment rather than making a large profit. He was known to take on additional mortgages to invest in the company. He cared deeply about his employees. When one employee needed hernia surgery, he did some research on surgical procedures — he found a procedure in Canada and paid for the transportation and surgery. It was not uncommon for him to call employees on their birthdays and invite them on a boat ride, complete with cake and ice cream.
Conrad believed the company's success was built on learning from its mistakes in order to improve its products. He regularly encouraged employees by saying, "Often, the profit on a job is only what we learn and what not to do next time."
Conrad retired in 1980 and sold the company to the Wehr Corporation, now known as Venturedyne. After continuing to work in various odd jobs throughout retirement, Conrad passed away in 1995, leaving behind a company built by his innovation that continues to lead the environmental testing industry.