The ESTECH 2017 conference runs from May 9-11 in Louisville, Kentucky. During this time, two Thermotron engineers will present at conference sessions, starting with Dr. Benjamin Shank, mechanical engineer, on Tuesday, May 9, at 8 a.m.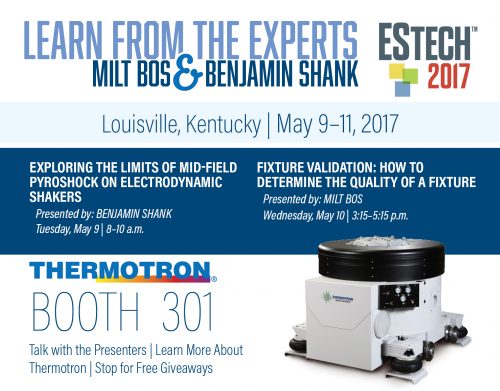 Ben's talk, titled Exploring the Limits of Mid-Field Pyroshock on Electrodynamic Shakers can be summarized as such: conventional wisdom, as codified by MIL-STD-810G, holds that electrodynamic (ED) shakers are not useful for reproducing vibration environments in which frequencies above 3 kHz are important. This is perhaps most noticeable in Method 517: Pyroshock, where the procedure for mid-field (3-10 kHz) testing with a mechanical device explicitly excludes ED shakers. This talk summarizes recent efforts to generate pyroshock-like transients on a range of small- to medium-sized ED shakers with meaningful SRS content up to 10 kHz.
Benjamin Shank earned a Ph.D. in physics from Stanford University for characterization and modeling of quantum calorimeters for the Cryogenic Dark Matter Search. His work at Thermotron focuses on vibration test system control and associated applications.
Following Ben is Milt Bos, supervising mechanical engineer-vibration test systems. Milt is presenting on Wednesday, May 10 from 3:15-5:15 p.m. The goal of his session, titled Fixture Validation – How to Determine the Quality of a Fixture, is to equip those attending with concepts that will prove valuable in the process of determining fixture quality. Two fixtures will be evaluated and methods of finding control points and of determining acceptable functionality and methods of use will be examined. The presentation draws on the knowledge-base of a manufacturer of ED shakers and associated fixtures. Basic ideas of vibration control and response evaluation will be presented, with a focus on the limits that can be successfully reached with real fixtures.
Milton (Milt) Bos received his bachelor of engineering degree from Calvin College in 1986. He has been employed at Thermotron for eighteen years. He has focused exclusively on electrodynamic shakers and their accessories. He has been involved in every aspect of design of the shakers and sliptables and continues to do research and development on new features and new models.
Those attending the conference are encouraged to visit the Thermotron booth (booth 301) to talk with the presenters, see a live demo of Thermotron's vibration controller, receive free giveaways, and learn more. We look forward to talking with you there.
Thermotron Industries is North America's largest manufacturer of environmental test chambers, vibration test systems, accelerated stress test equipment, and functional test & measurement systems. Thermotron is a technology leader and pioneer in the test equipment field. Each piece of equipment features our own instrumentation specifically developed for programming, controlling, and monitoring the test equipment and the product under test.
Contact us for more information on our equipment or to receive a consultation on your environmental testing program at 616-393-4580, www.thermotron.com, or info@thermotron.com.
Be sure to visit Thermotron at these trade shows in 2017. 

May 8-11: ESTECH in Louisville, KY (Booth 301)

May 23-25: Space Tech & Aerospace Electrical Systems Expo in Pasadena, CA (Booth 4022)

June 12-15: SAE 2017 Noise and Vibration Conference and Exhibition in Grand Rapids, MI (Booth 133)

June 20-22: Automotive Testing Expo Europe in Stuttgart, Germany (Stand 1859)

August 8-10: Space & Missile Defense Symposium in Huntsville, AL

September 12-14: The Battery Show in Novi, MI (Booth 1515)

October 16-20: Shock and Vibration Symposium in Jacksonville, FL

October 24-26: Automotive Testing Expo North America in Novi, MI (Booth 5042)

December 5-7: SpaceCom in Houston, TX (Booth 634)