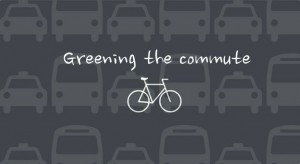 Green Commute Week, which took place May 11-16, is a tradition designed to encourage the Holland community to think green in practical ways. Thermotron employees came together and creatively chose sustainable options for transport to work. In its fifth year competing, Thermotron posted its highest participation rate yet for the company at 15%. "We are an environmentally-conscious company. We have a lot of people who in some way commute green regularly. Green Commute Week is a great way to get more of the company involved in that kind of living and thinking," explains Mike Ter Avest, Vice President of Manufacturing and Production.
The Macatawa Area Coordinating Council, or MACC, started Green Commute Week eight years ago to encourage Holland area businesses to take initiative in making green choices when it comes to transport to help their health, budget, and the environment. The event, centered around National Bike to Work Day, requires employees either carpool, bike, walk, or take the bus to work at least two days during the week to count for participation. Companies compete to see who can get the highest employee participation percentage.
Thermotron is no stranger to raising awareness in the community. The company also participates in Fire Safety Week, designed to help elementary school kids learn fire safety habits, as well a partnering with the Outdoor Discovery Center Macatawa Greenway.
Thermotron also values being environmentally responsible through reusing and recycling scrap from both the office and production stream, and then routing the waste to the appropriate recycler to reduce waste produced.
Although there were many ways to have a 'green' commute, almost all participating Thermotron employees chose to bike to work. Thermotron employee cyclists were casually referred to as "thermo-cyclists," after the term to describe when Thermotron test chambers cycle from high temperatures to low temperatures. Green Commute Week is a fun event at Thermotron, and this year several people decided to start making biking a regular part of their weekly routine. The event helps convince employees that green transport is safe, cost-effective, and fun!
Even though Thermotron won the competition last year and boasted its highest participation rate yet, it still was not enough to top the winning company at 18%. Next year, the goal is for 1 in 5 employees to participate, and to win the corporate competition. Bike on, Thermotron!