The Future is Bright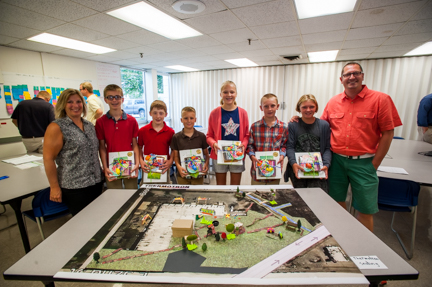 Throughout the week of July 31, Thermotron had the pleasure of hosting six middle school students as they sought to solve the company-wide dilemma: "How can Thermotron further build its community during daily lunch breaks?" Through the Ottawa Area Intermediate School District (OAISD) futurePREP'd IChallengeUth program, students worked on-site to create, distribute, and assess surveys; brainstorm problem-solving ideas; and share their finding and ideas to decision-makers at Thermotron. The final suggestions, which began by utilizing outdoor space more efficiently, included picnic tables, umbrellas, a walking path along a pre-existing creek, benches, horseshoe pits, a basketball court, and even a full-scale R/C race car track. Students impressed their audience by creatively presenting their ideas with highly detailed figurines, placed on a map of Thermotron's property.
As part of the OAISD program, the team received the Most Valuable Innovator (MVI) award, which was awarded after the students' presentation. Twelve teams participated in last week's program. Jason Pasatta, director of innovative services with the Ottawa Area Intermediate School District, commented, "Out of the twelve teams that participated in the program, we were thoroughly impressed with how, in less than a week, Team Thermotron was able to coalesce and function as an effective team in order to develop an innovative solution to a complex, real-world issue." The MVI award is based on various skills and attitudes that the team displays throughout the program, including teamwork, flexibility, and adaptability.
Congratulations, Team Thermotron!
Ottawa Area Intermediate School District
The OAISD futurePREP'd IChallengeUth Program is a week-long program that takes place each summer. The OAISD is a recognized educational leader in Ottawa County with a goal to facilitate and support personalized learning. They continually look for ways to enhance education for students, in schools, and in communities. Thermotron is proud to partner with the Ottawa Area Intermediate School District and work with the IChallengeUth students. Together we can help train and inspire the innovators of tomorrow.