Shake Things Up With Our Vibration Test Equipment | Booth 133 at SAE! Join Thermotron at the SAE 2017 Noise and Vibration Conference and Exhibition in Grand Rapids, Michigan, from June 12-15. Stop by for free giveaways!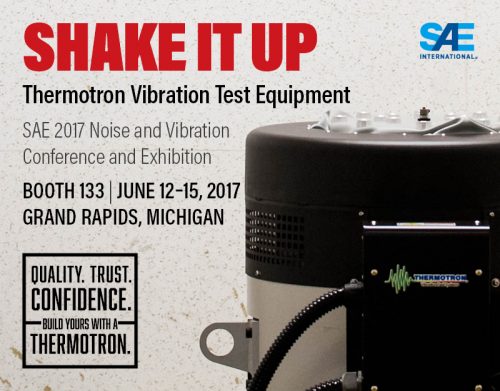 Visit Thermotron at Booth 133 to learn how our vibration test equipment can evaluate the quality and durability of each item as it endures stresses. Test shock, sine, random, and more in pre-programmed profiles on the WinVCSII Controller, or choose a Repetitive Vibration Shock Table to generate a multi-axis vibration test over a range of frequencies.
The SAE 2017 Noise and Vibration Conference and Exhibition is the premier technical event dedicated to mobility noise, vibration and harshness. Held biennially, this conference serves as a forum for leading automotive, commercial vehicle, and aerospace professionals to share the latest technologies surrounding NVH, and sound quality. By attending this event, you can learn how industry pacesetters are addressing challenges like noise source identification, vibration prevention, and harness reduction.
Need your exhibition or conference pass? Register now.
For more information or to ask any questions, please email info@thermotron.com, or call 616-393-4580.
We look forward to seeing you at Booth 133 at SAE!
Be sure to visit Thermotron at these upcoming trade shows in 2017. 

June 20-22: Automotive Testing Expo Europe in Stuttgart, Germany (Stand 1859)

August 8-10: Space & Missile Defense Symposium in Huntsville, AL (Booth 231)

September 12-14: The Battery Show in Novi, MI (Booth 1515)

October 16-20: Shock and Vibration Symposium in Jacksonville, FL

October 24-26: Automotive Testing Expo North America in Novi, MI (Booth 5042)

December 5-7: SpaceCom in Houston, TX (Booth 634)