Visit Thermotron at the 2017 Space Tech Expo Booth #4022, in Pasadena, California, May 23-25.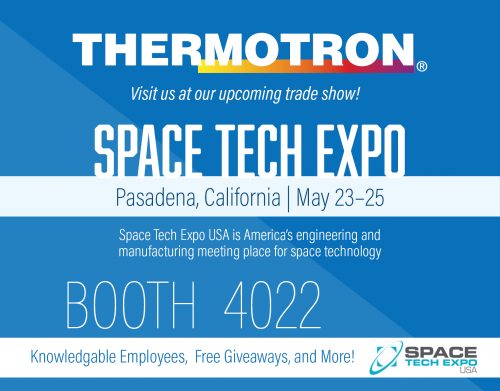 Thermotron's next trade show installment is the 2017 Space Tech Expo on May 23-25, in Pasadena, California. We will be exhibiting in Booth #4022 and, as always, will offer free giveaways for those who stop by!
In its sixth year, Space Tech Expo and Conference 2017 continues to grow in its new venue in Pasadena. As America's engineering meeting place for space technology, the exhibition draws attendance of thousands of industry leaders, decision makers, engineers and buyers to meet manufacturers and the supply chain for civil, military and commercial space.
The free-to-attend exhibition offers industry buyers an unrivaled opportunity to source the latest products, systems and engineering services, stay up to date with market requirements and cutting-edge supplier innovations, network and share knowledge. Running parallel to the exhibition, Space Tech Conference will once again offer perspectives from leading commercial, government and defense organizations.
Visit our booth (#4022) to meet with our experts about test chambers, environmental testing, electrodynamic shakers, vibration testing, and more. Be sure to check out all the reasons why our test chambers are the best in the market, and take the opportunity to grab some information to learn how we make programming an environmental test quick and easy.
For more information or to ask any questions, please email info@thermotron.com, or call 616-393-4580.
We look forward to seeing you at booth #4022 at the show!
Be sure to visit Thermotron at these trade shows in 2017. 

May 23-25: Space Tech & Aerospace Electrical Systems Expo in Pasadena, CA (Booth 4022)

June 12-15: SAE 2017 Noise and Vibration Conference and Exhibition in Grand Rapids, MI (Booth 133)

June 20-22: Automotive Testing Expo Europe in Stuttgart, Germany (Stand 1859)

August 8-10: Space & Missile Defense Symposium in Huntsville, AL

September 12-14: The Battery Show in Novi, MI (Booth 1515)

October 16-20: Shock and Vibration Symposium in Jacksonville, FL

October 24-26: Automotive Testing Expo North America in Novi, MI (Booth 5042)

December 5-7: SpaceCom in Houston, TX (Booth 634)