How often do you see a company's leadership team all wearing aprons? Well, it is an annual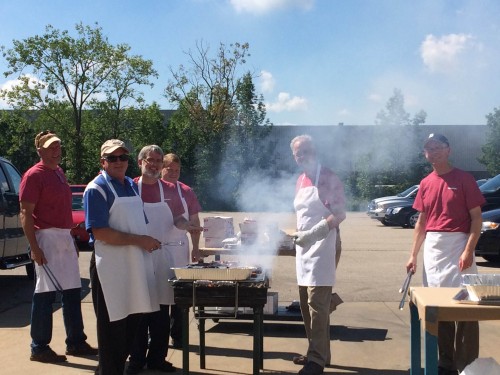 occurrence at Thermotron each summer, in fact it happens twice! Every year since 1985 Thermotron hosts "Dog Days Lunch" for employees at each of their. This year, the 31st annual Dog Days Lunch happened on Tuesday August 2nd at the Brooks Avenue Facility and on Wednesday August 3rd at the Kollen Park Facility.
The Thermotron leadership team donned their aprons and began grilling – hotdogs, brats, and even veggie dogs – and serving food for all the employees. Employees from both buildings lined up to be served their choice of food off the grill, and filled their plates with various appetizers, drinks, desserts, and condiments.  According to Thermotron President Clint Peterson, "Dog Days is a great opportunity for myself, and the rest of the leadership team, to individually see all of our employees, and thank them for all their hard work. It's a simple way to show our appreciation to the employees who help make this company run smoothly."
No other Thermotron employees were made available for comment since they were too busy eating and socializing.
Interested in being a part of next year's "Dog Day's Lunch"? Then check out our employment page and join the Thermotron team today.