At Thermotron we are flattered when we hear environmental test chambers referred to as Thermotrons. Knowing that our brand name is synonymous with environmental test chambers just as Sharpie, Kleenex, Q-Tips, Post-it, and Scotch Tape are to their respective products is flattering.
We would like to highlight a few articles where our customers talk about their facilities, products and test equipment, including their Thermotrons.
---
Aeryon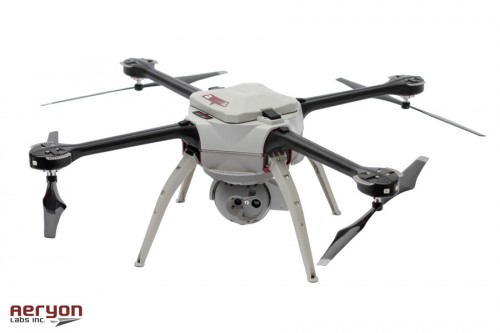 Aeryon based in Waterloo, Ontario Canada, designs and manufactures small unmanned aerial systems (sUAS) that are used in civil and military applications worldwide. In November 2016, Aeryon opened a $3 million, 7,000 sq ft. testing lab called Hanger 18 at their headquarters. This lab enabled Aeryon to bring all their product and reliability testing in-house. They have a wide range of equipment ranging from a rain /salt water spray chamber, vibration tables, and even an environmental test chamber. The article author Bob Vrbanac, refers to the environmental test chamber as a Thermotron with this quote, "The testing facility contains devices with the names like the Thermotron, which simulates temperatures ranging from -30 C to 50 C."
The lab is very important to Aeryon and according to president Dave Kroetsch the lab allows "Aeryon to simulate a broad range of environmental conditions which allows us to speed up the development of new products and systems." They are even looking to open up the lab to other area companies to use in the future.
Read the full Aeryon article here.
---
This article from The Columbus Dispatch explores the test lab at Battelle, a non-profit research and development organization out of Columbus, Ohio. In the article the Battelle researches are using a "Thermotron" to test a dashboard panel from a Blackhawk helicopter and testing it at minus 40 degrees. Additionally for the reporter, a researcher also threw in his iPhone into the test as well to simulate what happens to equipment or products at such cold temperatures. Battelle uses the Thermotron Environmental Chamber to subject items to extreme temperatures and humidity, and analyzes the results of the data to see how the product may fair in real world conditions.
---
The Constructed Facilities Laboratory at North Carolina State University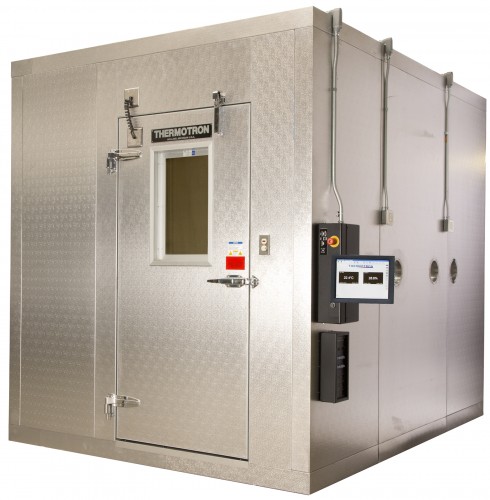 A reporter at BoingBoing.net explores The Constructed Facilities Laboratory (CFL) at North Carolina State University in Raleigh, NC and is able to experience a "Thermotron" first hand. At the CFL, researchers put building materials to the test, by stressing them to the point of failure. By testing actual components or scale structures of buildings and bridges, the lab is able to provide data on how the structure might react in an earthquake, or with extreme temperature changes. The CFL houses a large Thermotron Walk-In Chamber which they use to simulate extreme temperatures for the items that they are testing. Additionally they use the chamber to test other effects besides temperature like humidity and even salt water spray. Lastly, the author refers to the environmental chamber as "The Thermotron".
Raytheon
Popular Mechanics magazine visited the Raytheon facility in Phoenix, AZ to see how their high tech plant uses robotics, virtual reality, 3D printing, and more to develop cutting edge defense and aerospace equipment. Once again for us the highlight of the article was when the reporter talks about the "Thermotron"
"A hefty robot arm hauls a rack of parts for six Talon laser-guided rockets to an oven meant to test their endurance against extreme heat. The door of the Thermotron opens automatically just as the arm reaches it and shuts when the parts are inside."
This unique environmental chamber was designed with pneumatics to open and close the door automatically without human intervention, which is quite helpful when dealing with rockets.
---
It is great to see such a diverse group of customers' using our equipment and inviting reporters to experience a "Thermotron" first hand. Even more remarkable, is how important Thermotron environmental test chambers are to our customers. In all the stories, the Thermotron chamber is a part of the story and point of pride for the customers. They are proud of the environmental testing they can accomplish in their Thermotron to make their equipment or clients equipment better.
Do you have anything to share about your "Thermotron"? If so email us at info@thermotron.com.