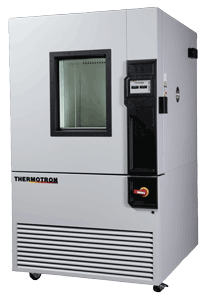 Powering Computer Electronics Testing
Thermotron works with many different industries to improve testing results. As a customer and industry leader, Dell's Rugged Solutions division and their Test Lab produce some of the toughest computers on the planet with the most rigorous testing standards.
Dell's Rugged Series of electronics are designed to not just operate, but thrive in adverse environments. Offering ranges of electronics from tablets to laptops, the Rugged Test Lab tests electronics to -20 degrees Fahrenheit among many other tests.
Testing With a Thermotron
As a result of testing needs, Dell chose a Thermotron chamber. Streamlined touch screen controllers accurately record and maintain testing data while trusted refrigeration systems power the chamber temperature.
Because of quality chambers, trusted components and confident results, industry leaders build their success with a Thermotron for environmental and vibration test equipment.
Watch below how our Thermotron chamber helps test the Rugged Solutions series of electronics in this video by Dell.
Click here to see all of Thermotron's chambers.