Booth 5042 | Benchtop Demo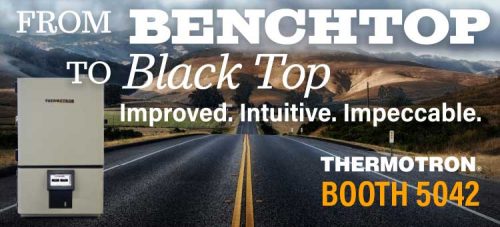 Thermotron is driving to the North American Automotive Testing Expo, from October 24-27 in Novi, Michigan, and we're coming with a benchtop chamber!
With a large sum of worldwide companies debuting new products and technologies each year, Thermotron is no exception. Visit Booth 5042 to watch a live demo of our temperature and humidity benchtop chamber, the SM-1.0, compete with the new 8200+ touchscreen controller. With the updated controllers, these chambers give users a deeper look at what is happening to the product under test. This benchtop chamber's compact design is ideal for smaller products and components that still require high-performance testing.
Vibration Presentation
Is vibration testing what your product needs? Attend the Open Technology Forum on Wednesday, October 25, at 1:30 p.m. Dr. Ben Shank is presenting "Bumps and Crashes: Running More Realistic Shaker Shocks."
Presentation Synopsis: Classic shocks on electrodynamic shakers are used to stress automotive parts. Unfortunately, most simulations, even from door slams to full-vehicle crashes, are not good damage replicas of the actual impacts. This talk will discuss how to run more realistic shocks on an electrodynamic shaker, which are also easier to keep within spec.
We can't wait to see you at Booth 5042