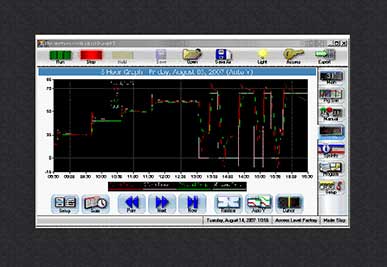 Thermotron's 8200+ Controller uses a high resolution, widescreen, color touchscreen display for easy operation and data collection. The Windows® look and interface give the 8200+ a familiar feel while still supporting robust operations. Built-in Ethernet capabilities give the 8200+ network-wide accessibility, while Thermotron's extensive multi-level, password-based security system protects sensitive data and provides peace of mind.
A logical user interface on the 8200+ makes it easy to operate. The main screen eliminates confusing navigation, allowing the most important information to be contained on a single monitor. Programming wizards add to the ease of operation, providing step-by-step instructions on program entry, and a specialized graphing screen uses a tap-and-drag zoom box feature, allowing you to hone in on a specific area of a graph.
The built-in USB port allows programs to be interchanged between instruments quickly and easily, as well as allowing for the export and transfer of test data with a USB flash drive. Designed and refined specifically for environmental test chamber applications, the 8200+ can be retrofitted to existing environmental chambers. Incorporating new instrumentation keeps older equipment up-to-date, allowing you to take advantage of newly developed benefits and efficiencies.