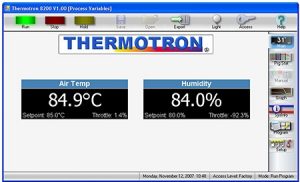 The 8200+ Controller was built by Thermotron's highly-skilled software and hardware engineers specifically for use with an environmental test chamber. The user interface is intuitive and supports robust chamber operations and user-selected data access on a single color touchscreen display.
Download the brochure to learn more.
Controller Features:
Intuitive Windows®-based software
Color touchscreen display
5+ years of data storage
Multi-level user security system
Activity log displays multiple events
Enhanced profile entry allows users to view a graph as data is entered
Graphing capabilities feature cursor bar, zooming, calendar, and more
Programmable service notifications help streamline preventative maintenance
Standard USB and Ethernet connectivity
The CDS-5 is now equipped with the 8200+ Controller. Click to try the CDS-5 Demo.