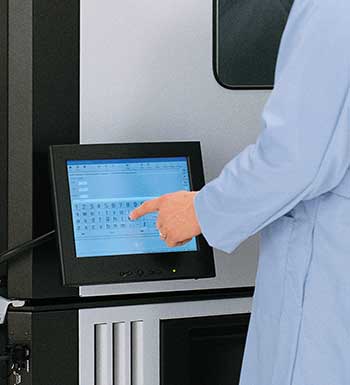 Thermotron's exclusive 8800 Programmer Controller incorporates state-of-the-art controlling, monitoring, graphing, and report generation on a 12" color touchscreen. Data collection and operation are easy and reliable with a Windows®-based interface, giving the controller a familiar look and feel. The unique screens allow users increased data access with a single touch. The 8800 Programmer Controller, a true paperless recorder, stores 10-plus years of data. The controller is Ethernet-compatible and web-enabled for anytime/anywhere access.
The 8800 Programmer Controller supports robust operations with a familiar, intuitive user interface. USB ports and the serial communications panel are ergonomically located near the controller for fast, convenient connection and data transfer. The secure multi-level, password-based system protects the chamber and sensitive data. The 8800 Programmer Controller is available on SE-Series, AGREE Chambers, Walk-In Chambers, and custom product lines. A specialized version of the 8800 can be found on AST for HALT/HASS testing and Thermal Shock product lines. The controller can be retrofitted to most existing environmental testing chambers.
Download the 8800 Controller Brochure to learn more.