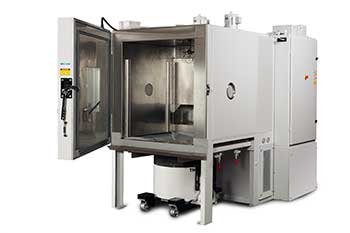 AGREE (Advisory Group on Reliability of Electronic Equipment) environmental test chambers provide the flexibility needed to adapt to ever-changing testing and industry requirements. Thermotron is the only manufacturer of AGREE chambers and vibration test equipment that interface with one another for combined environment testing.
AGREE Chambers are available in temperature or temperature/humidity configurations. Enhance chamber versatility with the addition of double, vertical lift, or horizontal sliding doors, adjustable height, or floor plug cart assemblies. Standard temperature transition rates range from 5°C up to 30°C per minute. Faster change rates can be achieved using LN2 or CO2 boost or multiple refrigeration machine sections.Thermotron combined environment test chambers incorporate proven performance and versatility to meet and exceed your testing needs.
AGREE chambers can be customized to simulate multiple environments including, but not limited to, solder joint reliability, high-performance testing and screening, combined environment reliability testing, AGREE mission profiles, key life testing, and multiple environment overstress testing. AGREE systems are ideal for many industries including aerospace, automotive, telecommunications, defense, and consumer electronics.
To learn more about AGREE Chambers, watch our latest product series video.