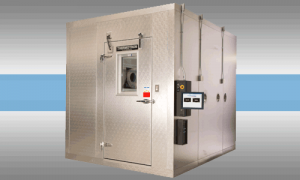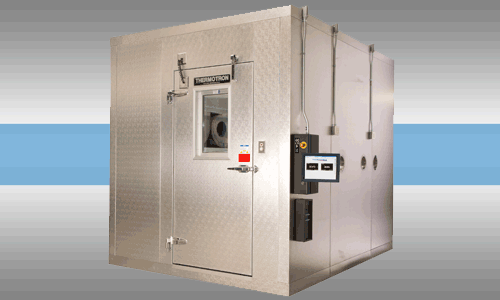 From aerospace and avionics to refrigerators and automobiles, Thermotron Panel Walk-In Chambers serve as test sites for components, assemblies, and finished products. Thermotron is dedicated to supplying test equipment designed to meet specific needs. Understanding the product's size, quantity, and test requirements helps determine the best chamber size for your application. If our standard equipment does not address your test requirements, we will design a custom test chamber that can. Thermotron Walk-In Panel Chambers are designed and built to last.
Thermotron Panel Walk-in Chambers are made from lightweight panels for fast and easy installation. Locating pins ensure an accurate fit and the Cam Action Speed Locks securely join panels in place. The corner posts are built at a defined 90-degree angle to strengthen and align the entire chamber.
Thermotron has a wide variety of standard conditioning module configurations ready to interface to a panel assembly. This flexible interface allows you to mix and match the box size and module in order to meet individual test requirements. Conditioning modules are predesigned and prepackaged with a conditioning plenum and refrigeration machinery mounted on a common base. If the standard module sizes don't meet your needs, custom configurations are available as well.
Download the brochure to learn more, or read our case study about how Central Michigan University is taking advantage of their Thermotron chamber.