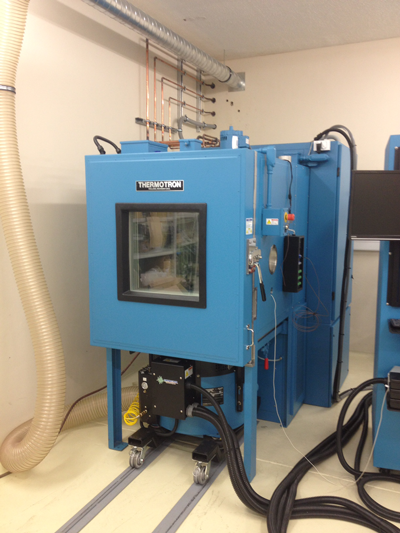 Namibia, Africa-based company Sat-Com Communications Solutions prides itself on being a 100% Namibian company. Founded in 1996, Sat-Com originally manufactured television and FM-radio transmitters and other broadcasting equipment. Now, Sat-Com focuses on manufacturing products for the military/defense sector, primarily man pack and base station Multiband-SDR-Radios.
Sat-Com's goal is to manufacture world-class products, that are designed, tested, and verified to meet military specifications such as MIL-STD 810G. Due to the company's geographical location and the country's lack of supporting industry, Sat-Com invested in all the technologies and manufacturing processes required for their business, making them one of only a handful of manufacturers in the country.
"This allows us to continually improve our products and implement new technologies, thus ensuring our competitiveness and ability to address customer needs sooner than big enterprises," said Glen Brown, Manager of Mechanical Engineering at Sat-Com. "It has also allowed us to expand our offerings to include other radio accessories such as antennas, high power amplifiers, power supplies, intercoms, and head sets."
Sat-Com radios are primarily used in aircrafts and vehicles in harsh environments worldwide. The company's engineers strive to develop products to withstand even the most rigorous conditions. "Environmental testing is an absolute prerequisite to achieve these objectives," Brown said. "Doing environmental tests is a must for any reputable company."
"We take testing very seriously. Through thorough market research we were able to source the most appropriate equipment for our products," explained Brown. When researching their chamber and shaker purchase to test their product Sat-Com looked for equipment that would simulate a wide range of temperature and vibration levels ideally from a single supplier. Because Thermotron fit these requirements, Sat-Com purchased a Thermotron combined system, which included an AGREE chamber (model number F-16-CHMV-5-5) that simulated temperature and humidity with a removable floor to interface with an electrodynamic shaker (model number DSX-2250) for simultaneous vibration testing. Both pieces of equipment can be used as standalone units as well.
Buying from a single-source supplier, mitigated an expensive integration, and ensured the chamber and shaker would work seamlessly together. As a bonus, support and service was coming from the same company as well.