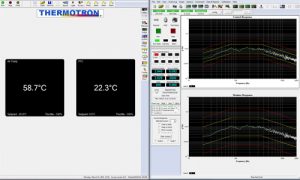 Thermotron's WinVCSII Controller is designed in-house by Thermotron software and hardware engineers specifically for use with an electrodynamic vibration shaker and vibration test system. It and offers vibration control and analysis for accurate sine, random, shock, resonant search and dwell, random-on-random, sine-on-random, and sine-on-random capabilities.
The WinVCS II has a familiar look and feel, which minimizes training time and makes set up and report generation quick and painless, as well as a library of pre-programmed vibration profiles, conforming to many preset test specifications simplifies set-up and operation. Real Data Acquisition and Playback (RDAP) allows actual vibration data to be recorded in the field regarding product performance under normal operating conditions.
The WinVCSII has menu-driven software and color graphics. The software allows for up to four displays to be viewed simultaneously and is also capable of automatically running test scheduling and profile sequencing, including switching vibration control modes from sine to shock to random.
The WinVCSII also integrates with the 8800 Controller for combined environment testing with an AGREE Chamber.
Standard Features:
User selectable frequency range up to 3,000 Hz
User selectable resolution up 3,200 lines
Scalable tolerance and abort limits
24" widescreen monitor displays
User-define temperature and electrodynamic vibration profiles
Multiple accelerometers and thermocouples controls
Ethernet-compatible and web-enabled